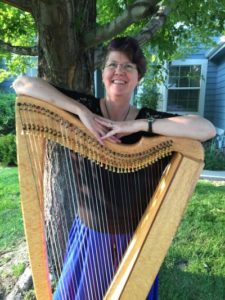 I created this website way back in 2007 because I wanted my Celtic harp students to have, at their fingertips, all the information I could give them to supplement their lessons.
Soon  new students and other harpists (or would-be harpists)  were finding me when they went searching for a Celtic harp teacher or harp information on the internet.
Along the way, I discovered that I love reaching out to people all over the world, encouraging all who fall in love, as I did, with the magical sounds of the Celtic harp.
Won't you join the adventure?
Subscribe here to receive notice of new posts and pages:
My Story
My name Susan Zevenbergen, and it is my great joy to be a Celtic harp teacher in Denver, Colorado, though most of my students live elsewhere  and take lessons via Skype. I also provide beautiful live music as part of  Lumina Celtic Harp and Flute Duo for events in the greater Denver area.
While I grew up loving my piano lessons and singing in choir, in college I studied English and settled for a minor in music, thanks to my belief that I would never make it as a "serious" pianist.
Why did I believe that?
Well, like many of my students, and probably many of you, I encountered teachers who made it clear that I was not fabulously talented enough to be a piano star, so why even try? In our culture, only the stars seem to matter, and there are only a few winners in the impossible competition to be "the best".
Years passed, but once I reclaimed my right to make music, a magical thing started to happen. I started to realize that I could be the best musician I could be, and that was enough.
Better than enough.
And once I started playing as if I deserved the joy of music, my musical growth took off.
Photo by Ingrid Greenberg
Then another even more magical thing happened . . . I discovered the Celtic harp.
While I had the same obstacles to overcome as anyone does who tries to learn a new musical instrument as a middle-aged adult, as soon as I started to play the harp, I knew I had come home.
Home to "my instrument" and home to my heart. I discovered that I could be the musician I always dreamed of being, on my own terms. What could be more magical than that?
As it turns out, helping other people discover the same thing!
Subscribe here to receive notice of new posts and pages: