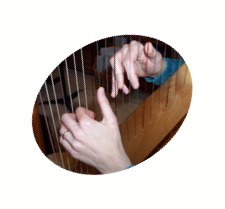 The question I get asked most often is how to go about buying a Celtic harp. This is certainly a subject of seemingly great mystery to those new to the harp.
What's the smart way to proceed?, if you're a beginner, please forget buying a Celtic harp for now and rent a harp first.
Why?
Well, it's safer to invest about $50/month in an instrument rental (just like you would for a cello or French horn) while you're discovering if the Celtic harp is the right instrument for you. Besides that, you won't know, at the beginning, how to hear the differences in sound from one harp to another.
Until you've played enough to know what kinds of music you like, and therefore what range you need, and what kind of tone you love best (rich and mellow? bright and strong?), you are smart to wait, knowing that you will find your perfect, magical Celtic harp when you are ready for it. If you are serious about playing the harp, you will want to buy a harp that is well-made, that sounds beautiful to your own ear, and that will perfectly suit the kinds of music you most want to play. Even better, it will grow with you as you learn.
So now let's say you've played long enough to develop your harp ears and you know what you like, and you're considering buying a Celtic harp of your own.
In that case, you're ready to start doing live harp research!
If you're lucky enough to have a harp store anywhere nearby, start there. There is simply no substitute for actually playing a harp to see if you like its sound. Besides that, I can think of nothing more magical than spending an afternoon playing a whole roomful of harps and dreaming about which one might want to be mine!
If you're looking into buying your first Celtic harp and you're not near any stores that carry harps, consider attending a Celtic harp conference or two, not only to take workshops that will greatly expand your horizons, but to try harps from all the harp makers there. Meeting luthiers will also allow you to really understand what goes into crafting a fine Celtic harp.
Remember that your teacher, if you have one, is a great source of advice about the right harp for you. Not to mention his or her other harp students, each of whom has a harp they love, experience buying a Celtic harp, or at least ideas about which harp they lust after.
Buying a Celtic Harp via the Internet
The internet has greatly increased your ability to investigate and buy harps even if you live in a remote location. But just as with anything you buy, you should remember that buying a Celtic harp online is not without hazards. There are plenty of very cheap harps available that look much prettier than they sound. Some of them have been known to include unworkable levers and most of them do not hold their tune–a real problem for anyone, but especially for a beginner.
The good news is that there are also lower-priced harps that do a fine job, for the price, that will fill the gap until you might be ready to invest in a better instrument. If the budget-friendly harp is made by a reputable harp maker, such as William Rees/Sharpsicle Harps, Stoney End, Lewis Creek, Triplett, Blevins, Thormahlen or Dusty Strings, you really cannot go wrong. Of course, the big pedal-harp makers also make fine Celtic harps (Lyon & Healy, Salvi, and Camac), though they are often strung with higher tension and aimed at students who will eventually play pedal harp.
If you can't play a harp before you buy it, how on earth can you pick one?
Do your homework. If you don't have a teacher, then join the harplist at Yahoo, network with other harpists online, and read up on all the harpmakers (luthiers) at their sites. Before buying a Celtic harp online, check the luthier's references. Ask for testimonials from the luthier and ask about the specific models you're considering on the harplist. Listen to sound clips, if they're available.
In the end, you will be glad you did your research and found a lovely instrument. If you're serious about playing beautiful music, you will want to know that you are buying a Celtic harp that is well-made, that creates the kind of sounds that are beautiful to your own ear, and that will perfectly suit the kinds of music you most want to play. Even better, it will grow with you as you learn.
To get you started with your research, here is the "HarpLust" list of all the harpmakers (called luthiers) on the web.
What To Look For When Buying a Celtic Harp
Narrow your search by deciding on
~your preferred tone
~your preferred string range
~your price range
~your preferred string tension
~how portable you want the harp to be
~the style of music you most often play
For example, if you want to play music with a satisfying low bass, you probably want at least 34 strings . . . unless you want to travel with your harp or take it into small places like hospital rooms. Or perhaps you've fallen completely in love with South American harp music, and you now long for a Paraguayan harp. These considerations underline the importance of knowing as much as you can before you commit yourself to buying a Celtic harp.
Many Celtic harpers do end up with more than one instrument, however, because of the wide differences in sound, the need for different harps for different needs, and the inevitablity that your tastes may still change as your skills and experience grow. And let's face it: Celtic harps are pretty irresistible!
Like other fine instruments, harps are a big investment. Most Celtic harps are made by hand, from premium woods, with great attention to acoustics. There is no way to mass-produce quality harps. You can, though, build one yourself from a kit, if you have the skills and patience that requires (Music Makers and Stoney End both offer quality harp kits).
But here is the great news: Harps hold about 75% of their value, and selling a second-hand harp is relatively easy if you are part of the large and friendly Celtic harp network, both in your hometown and online. And that's one more source for buying a Celtic harp: the large market of gently used harps.
Need more answers? Ask me a question about buying a Celtic harp here and I'll do my best to answer it or point you in the direction of someone who can.
Subscribe here to receive notice of new posts and pages:
Save