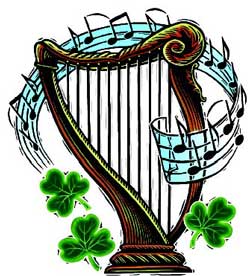 If you're like me, even though you love to play the Celtic harp, you'll appreciate a change of pace with some harp fun and games ~ things like jokes, quotes, clipart and composing games.
If so, you've come to the right place. I've posted all my favorite harp fun stuff here.
Inspiration and Humor
These are quotations and jokes I've collected that reside on the My Harp's Delight site:
Harp Quotes and the Harp in Literature
Favorite Music Quotes
Harp Jokes
The rest of this page contains links to other fun stuff for harpists that others have collected or created (all links will open in a new window for your convenience):
Harp Clipart
FotoSearch Harp Clipart

Harp Coloring
Not clip art, exactly, but there is an adorable harp coloring sheet (along with other instruments) on this page: Free Cartoon Harp to Color
Harp Games
Here is a page where you can download a harp maze, a harp wordsearch, and some good harp reference sheets, all from Sylvia Woods:
Harp Games & Handouts

How about a place where you can actually play a virtual harp?? Check out this site by Tina Tourin:
Play the Harp Online
Music Notation as Demonstrated by Cats
Want to see musical terms demonstrated with a lot of humor?  Check out this silly fun.    You will especially love how the cat accomplishes the glissando.
Online Music Games
The following harp fun resources are culled from the many sources of music games on the internet. All of them are fun for any musician!
DSO Games
Classics for Kids
I hope you enjoy the resources on the Harp Fun page! I'll post more gems as I find them, so be sure to check back soon.
Save