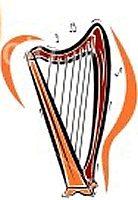 Welcome to the Celtic Harp Blog at My Harp's Delight!
I love sharing the magic of the Celtic Harp, and while there are many pages of resource information here, the Celtic Harp Blog  is where you can find all the little tips, techniques,  and other new Celtic Harp discoveries I want to share with you.  Whether you want fresh ideas for improvisation,  better ways to practice, ways to improve your technique, or other inspiration to bring to your harp, you're in the right place.
Subscribe here to receive notice of new posts and pages so you don't miss anything!
Note: You can use the category drop-down menu near the top of the left hand column to find posts by subject.  Or use the green search icon on the far right of the top menu.
Can't find the information you're looking for on the blog?  Drop me a line and I'll do my best to answer your questions.